WESSEX SCALE LEAGUE EVENT AT PITNEY AERO CLUB
I said I would write a short assessment of the event for anyone fancying a trip to the far west for their Scale League. The round I attended – there are six rounds each year – was at the Hornblotton site used by Pitney Aero Club. It's a couple of strips cut from a grass crop field with ample parking and a rather cramped area for spectators and pits (of which more later). Many thanks to Peter Fell, the league chairman, Gordon Libbey and Dave Bailey, the judges and to John Rix, Pitney's chairman for a grand day out.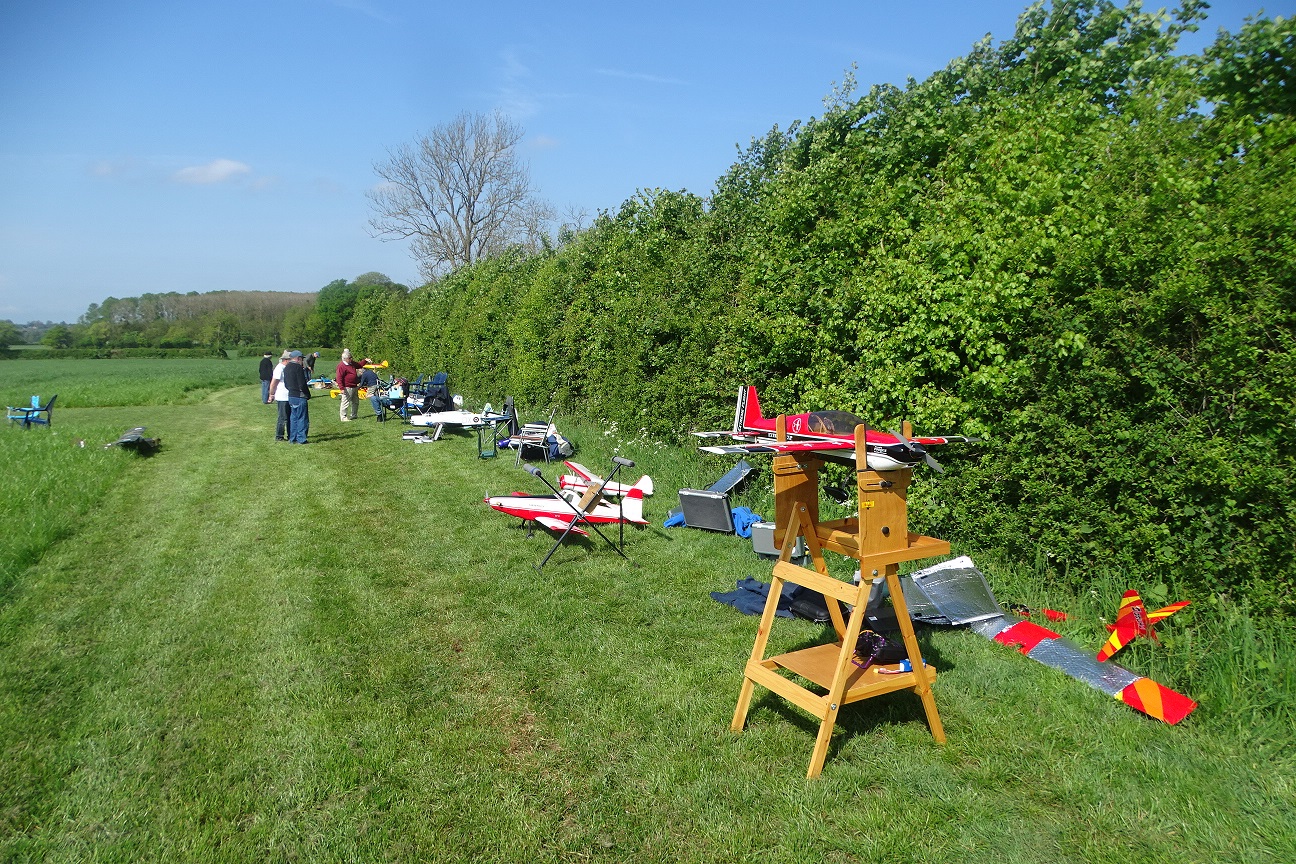 Here's the pits and seating. You can just see the judges and pilot box position on the left
A wider angle showing the main runway, N/S and the alternative, E/W (only used for take-off at this event) and the pits lane
Looking up the main runway. So it was a cross-wind take-off and landing!
The judges worked hard all day and were looking into the sun. Many of the fliers made the mistake of flying too close and too high, making judging very difficult.
The best fliers kept further away and reasonably low down.
Peter Fell, the League Chairman, sent me this description:
"The Wessex Scale League is a long established and friendly form of inter-club and individual competition which has been running since 1972!
Current participating clubs are: Blackdown, Sedgemoor, Ilminster, Pitney, Woodspring and Beaufort.
Taking part is a great way to improve your flying skills and have the opportunity to experience other club flying sites and chat to participating club members.
The event is for I/C or Electric fixed wing aeroplanes (excluding Jets) that are based upon a full size aircraft. Models can be Scratch, Plan or Kit built or ARTF.
Pilot briefing is at 10.00am. Flight program is two rounds. You choose 6 for IC, 5 for electric of the 9 BMFA Scale manoeuvres and 10 minutes for the chosen flight plan that is judged on flight performance only and scored."
I got there at about 0930 after a 90 minute drive and set up my three models – Auster AOP6, Avro Lincoln and Westand Wyvern. I need only have brought the one, because the score is taken from your best flight of the two rounds. Briefing was at 1015 and flying was alternated between IC and electric models. Skill levels varied from seriously expert to only average and models from ARTF or kit to scratch and plan built.
I flew the Auster first and made enough errors to put me well down the field – too close, too hurried, trying to show off rather than do a deliberate scale "real aircraft" display. Ah well. But I wasn't the only one. Apart from four or five entrants, models were flown far too high, far too close or, paradixically, far too far away. The second round was better.
There were some very good models there: here's a selection. A plan-built Miles M20 (which came to grief in the long grass at the side of the runway), this kit Vans RV4 flown by local expert and winner Steve Fish, and Martin Stirling's Stampe SV4 which was my favourite, very well displayed,
Peter Fell's ARTF Spacewalker and a very similar Fly Baby by Derek Burvill.. All these were IC powered. The Stampe sounded great and the Vans was exceptionally quiet.
I flew the Lincoln and Wyvern in the break between rounds. Landing on the narrow main strip was a big challenge and although the Wyvern was OK, the Lincoln found the long grass just before the piano keys, fortunately without damage. It did look good in the air and got some oohs and aahs and very favourable comments afterwards, so I flew it again in round 2 and kept the flying away from the flight line and "used the space", even managing to land back on the strip first time. The flight was good enough to get third (out of five) in the final scores, and lots more favourable comments.
The layout of the pits, spectators and judging area/pilot box made it very difficult to avoid unsafe situations. At one point a pilot there started up his large IC model right behind the judges seating and during his taxi test was aiming straight at them! There were other less obvious safety breaches, all brought on by the cramped layout. I gather than next year the mown strips are to be moved and enlarged.
It was a very enjoyable event with friendly bunch of people, a beautifully sunny day and a light variable breeze. The event was quite unlike normal Club flying, in that only the competitors flew, and with 10 of us, it took about 90 minutes to get through a round, with an hour for lunch, when there was a bit of informal flying. My only suggestion to the organisers was that 10 minutes was far too long and 5 would have been better, getting the day moving along much more quickly, reducing down time and maybe giving time for three rounds.
But I would go again next year if the forecast is good, but not to the Clubs further west, which are all over two hours drive away.
It did beg the question of why we don't have a similar sort of event in the Christchurch club. I don't think there are enough scale fliers to make a copy of this one worthwhile, but perhaps an all-comers aerobatic day might be a good start. Oh, and there was some interest in an open day at Longham, which I will follow up.
For the record these were my flight plans:
Auster – Take off, fig 8 circuit, loop, stall turn, descending circle, touch and go, landing.
Lincoln – Take off, fig 8 circuit, lower and raise UC, descending circle, wingover, overshoot, landing.
These photos of some of the models were taken by Mike Bird